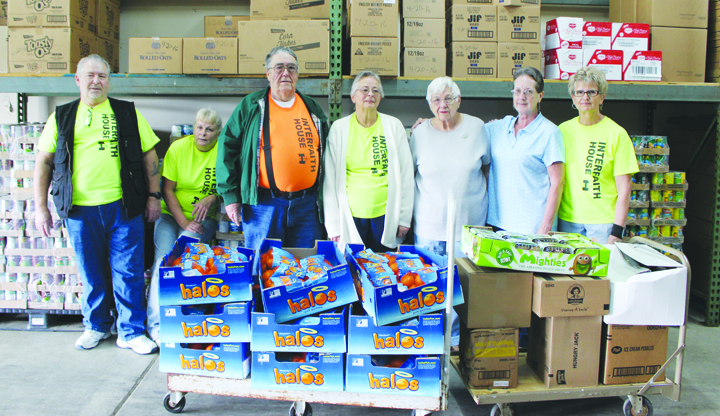 Local food pantry serves over 300 households in Adams County
By Patricia Beech
In Adams County, the Interfaith House is a life-line for more than 400 families who would be deprived of the most basic life necessities if not for the efforts of the food pantry's staff of volunteers.
"It is very important to this county," said Judy Robinson, an Interfaith volunteer. "We help a lot of people who wouldn't be able to have meals on their tables if it weren't for this place."
However, not so long ago, volunteers at the food bank were facing what seemed to be insurmountable obstacles. The building which housed the organization was dilapidated and crowded. The floors were sagging, the walls bowing, and with a whole list of other problems, the building would soon be unusable, forcing this provider of vital community services to close its doors.
With more hope than funds, and unshakable faith, they sent up a plea for help to community members, churches, and businesses – the Interfaith House needed a new home. The old Chaparral Feed Store at the intersection of St. Rt. 247 and Chaparral Road was empty, and Joe-Ann Weber, Director of Interfaith House, knew it would be the perfect location.
Weber said one morning she had a feeling that she should stop at the post office, though she didn't know why. "There was one envelope in the box," she said, "I took it home, and opened it, there was an anonymous check for $100,000 inside."
Weber could scarcely believe their good fortune, "We'd already committed to the purchase of the new property when the check arrived, but now the payments are a lot lower," Weber said, admitting the surprise donation brought tears of joy.
Thanks to the generosity of multiple donors, the food bank's volunteers are feeling a lot better about the future. No longer rubbing elbows in a cramped, run-down space, Interfaith volunteers now work in a spacious building containing two large rooms with space enough to serve their clients, and shelving enough to store more than a month's supply of groceries. "We could hardly move around over there without bumping into each other," says Weber. "Now we have room for people to come in, and they can all sit down."
According to Weber, the number of clients they serve increased substantially after the move to the new location.
"The food bank makes all the difference for many people in Adams County. We're helping a lot more older people now," she says. "We had 10 when I first started at Interfaith, and now we have over 110 Senior clients – they just can't make it without help, and this place is a real boost for them."
Weber explains that the purchase of the new building would not have been possible without the support of community members and businesses. "We are especially grateful to GE Aviation, the First State Bank, and Caleb Grooms, the previous owner, he really wanted us to have this building," she says, adding, "we couldn't have done it without them."
Mike Pell, President of First State Bank said, "Our company has supported the Interfaith House for many years because we appreciate the important work they do, and we're so pleased they were able to get into their new building."
Employees from GE Aviation in Peebles volunteered to help move the Interfaith House to its new location on Chaparral Road. "They've helped us so much," said Weber, and now they're working on getting the ceiling and the whole place insulated for us."
"Volunteerism is a part of GE's culture," said Eric Woolf, Employee HR Manager at the Peebles facility, "Every year we coordinate our resources to support the communities where we work and live. Our GE Aviation Team at Peebles is proud to volunteer at the Interfaith House and assist with its mission to support the emergency needs of low-income residents in Adams County."
Interfaith House was started by a group of local churches in the 1980's to address the needs of county residents who struggle to make ends meet from month-to-month. "Adams County is one of the poorest in the state of Ohio," said volunteer Carol Marshall, "If it weren't for the food banks and other organizations, many people just wouldn't be able to make it."
Over the past three decades donor churches have been joined by local businesses, organizations, and individuals in supporting Interfaith House. Weber says they also receive a government grant each year.
The food bank is a part of FEMA (Federal Emergency Management Agency), however government red tape often slows the flow of funds forcing the organization to rely on money and food donations from the community.
"We purchase our canned and packaged foods from the Free Store in Cincinnati," Weber explains, "When funds are low donations makes all the difference. Gene Marshall, a volunteer at Interfaith House said, "We really are grateful for all the people who help support us. Without them, we couldn't operate, especially businesses like Walmart, New Life Ministries, and all the churches and people who donate."
Even though things are looking up,Weber says there are still needs that haven't been met. "We need volunteers, especially people who have computer skills who could give us a day now and then, and we need a weed-eater."
Amazon Smiles is a convenient way to donate funds to the food pantry. When making purchases through Amazon, simply use smile.amazon.com with your account information (user name and password), then choose Inter Faith Assistance Association Inc. of West Union, Ohio as your charity. To donate money, make checks payable to the Interfaith House and indicate either Building Fund or Food Fund in the memo area. The mailing address is Interfaith House at P.O. Box 40, West Union, Ohio 45693. Donations may also be dropped off during business hours at 5300 Chaparral Road on Monday, Wednesday, and Friday from 11 a.m. – 2:45 p.m., or call 937-544-7141.