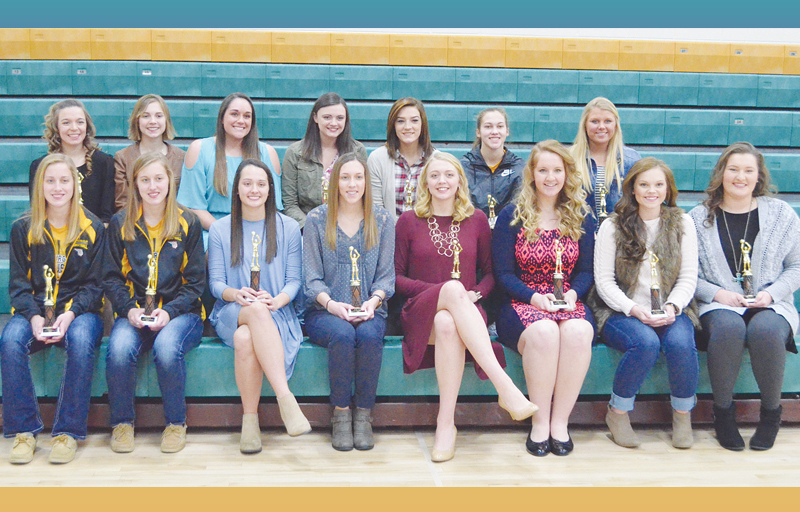 By Mark Carpenter –
North Adams High School was the site on Sunday, March 12 for the Southern Hills Athletic Conference Winter Sports Awards, as the conference honored its finest from the 2016-17 season.
Commissioner Michelle Gleim and members of the SHAC Board were the hosts for the awards ceremonies, which honored both the Girls and Boys All-Conference Teams, whom are chosen by a vote of the SHAC basketball coaches.  A total of 15 girls and 15 boys received All-Conference recognition for the 2016-17 season.
Also honored on Sunday were the SHAC regular season champions.  For the girls, the Eastern Brown Lady Warriors took home the coveted gold ball trophy by finishing the conference regular season with an unblemished 13-0 record in Division I, commonly referred to as the "big school" division.  The second place trophy in Division I went to the Lynchburg Clay Lady Mustangs with an 11-2 conference mark.
In Division II, or the "small school" division, it was once again the North Adams Lady Devils taking home the first place hardware, finishing with an 11-2 record within the conference.  Second place in Division II went to the Fairfield Lady Lions with a conference record of 8-5.
The Division I regular season champion for the boys was Lynchburg with an 11-2 conference mark, with Peebles at 10-3 finishing second.  The Fairfield Lions took home the first place trophy in Division II at 10-3, with the Manchester Greyhounds placing second at 7-6.
The SHAC also named its Coaches of the Year, with Fairfield's Everett Snyder named the Boys COY, and Eastern Brown's Kevin Pickerill honored on the girls side.  Earlier, Pickerill was also named the Associated Press Southeast District Division III Coach of the Year as well as the AP All-Ohio Division III Coach of the Year.
The SHAC has also added a new award for the 2016-17 season, naming Players of the Year in all of its sports.  Lynchburg's Eric McLaughlin was chosen as the Boys Player of the Year, with Eastern Brown's Allison Day taking home the girls' honors.
2016-17 SHAC Final Standings
GIRLS
Division I
Eastern    13-0
Lynchburg   11-2
Peebles   7-6
Ripley   4-9
West Union  2-11
Division II
North Adams   11-2
Fairfield   8-5
Fayetteville  7-6
Whiteoak   2-11
Manchester   0-13
BOYS
Division I
Lynchburg   11-2
Peebles  10-3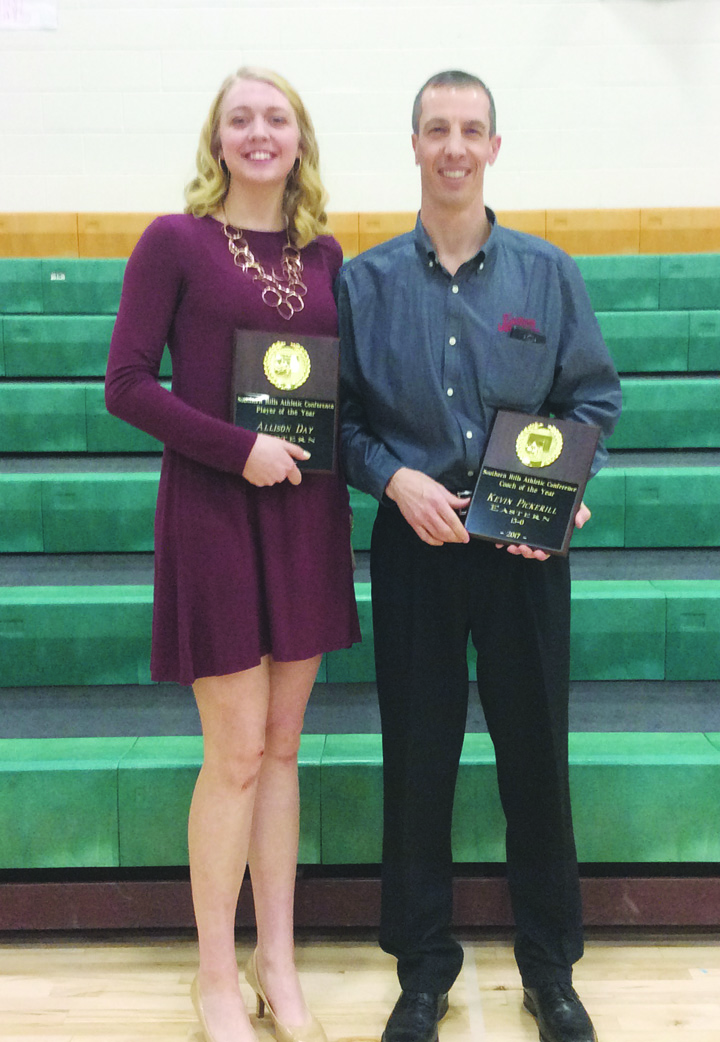 Ripley   7-6
West Union   5-8
Eastern   4-9
Division II
Fairfield   10-3
Manchester   7-6
Fayetteville   5-8
North Adams   5-8
Whiteoak    1-12