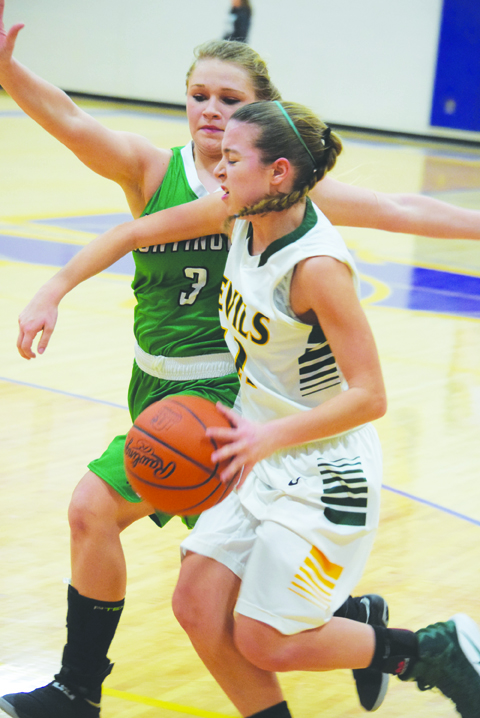 North Adams advances with 70-39 rout of Huntington –
Story and photos by Mark Carpenter –
After stumbling towards the end of the regular season and losing four of their final five games, it was time for the North Adams Lady Devils to right the ship in the sectional tournament and they did that in a big way on Saturday afternoon at Valley High School.  The third seeded Lady Devils faced off with the number six seeded Huntington Lady Huntsmen and a 14-0 first quarter run was all she wrote as the North Adams girls captured their fourth consecutive sectional championship, this time claiming the Division III crown by a final score of 70-39.
There were a lot of factors that contributed to the easy win for North Adams, not the least of which was their pressure defense that converted Huntington turnovers into points on the offensive end.  The Lady Devils also got a game-high 24 points from Lakyn Hupp and a monster game from running mate Avery Harper, who scored 17 points and hauled down 17 rebounds.  Throw in seven blocked shots from senior Madison Jenkins and you had the formula for a sectional title win.
"We didn't practice very well on Friday, " said North Adams head coach Rob Davis in his post game radio interview.  "We acted like Huntington was just going to roll over for us but they had 15 wins for a reason.  One of our goals each year is to come to the sectional and play well and then hopefully make a deep run.  Our defensive intensity picked up today, we cut down on the turnovers, and we made good decisions."
"We just want them to play hard and trust their teammates and do what they are capable of doing.  We got some great contributions off the bench today too."
The game was close early, tied at 4 apiece, but that was before the Lady Devils reeled off 14 straight to for all practical purposes, decide the outcome of the game in the first quarter.  A three-point play from Jenkins, a steal and score from Maddie Toole, and back to back three-pointers from Madee Shipley and Brooklyn Stout capped the run which gave North Adams an 18-4 advantage.  When Grace McDowell drilled a three from the corner at the horn, the Lady Devils held a commanding 21-9 lead after eight minutes of play.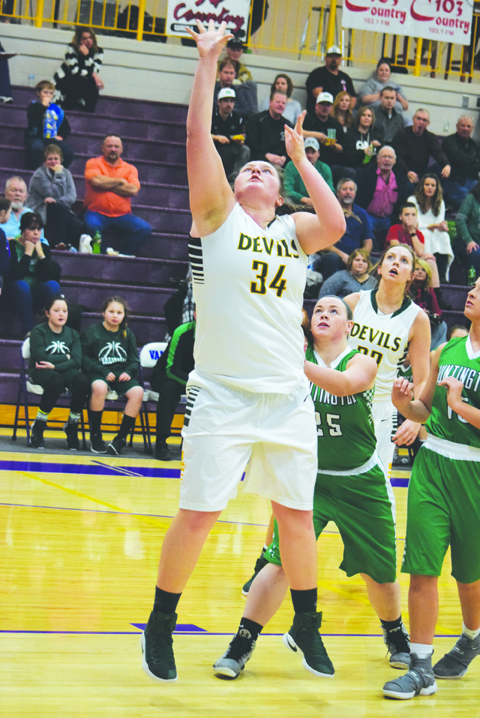 The onslaught continued in the second period, even after Huntington head coach Eric Snyder used his fourth timeout of the first half.  North Adams went on a 16-2 run in the second frame, half of those points coming from Hupp, to move in front 37-11.  Two more Hupp baskets plus a short jumper from Shipley send the two teams to the locker room with things comfortable in hand for the higher seed at 45-19.
In the third period, it was Harper and Hupp combining for six baskets as the Lady Devils continued to maintain their huge margin, which after a late Caitlin Young basket extended to 64-33 at the end of three quarters.
As Coach Davis substituted freely in the fourth quarter, the scoring pace slowed down considerably, with the Lady Devils getting two more baskets from Hupp and one more from Harper to account for the final score of 70-39 as North Adams again cut down the nets as sectional champions.
Hupp led all scorers with her 24 points and Harper, coming back from a foot injury, was very impressive with her 17-17 double double day.  Grace McDowell added 9 for the winners, with Madee Shipley tossing in 7 off the bench.In all, nine Lady Devils made their way into the scoring column.
Huntington was led by 16 points from Braiden Collins, with Rikki Magill adding 9.
The win sends the Lady Devils (16-7) back to the Division III District Tournament, where they will be in action at 1:45 p.m. on Saturday, Feb. 25 at Waverly High School.  Their opponent will be the number two seeded Wheelersburg Lady Pirates, a team that thumped North Adams 50-26 in their final regular season game.  In the earlier match up, the Lady Devils were without starting point guard Taylor Hesler and lost Harper early in the game to injury, so expect a much closer affair in Saturday's district semi-final.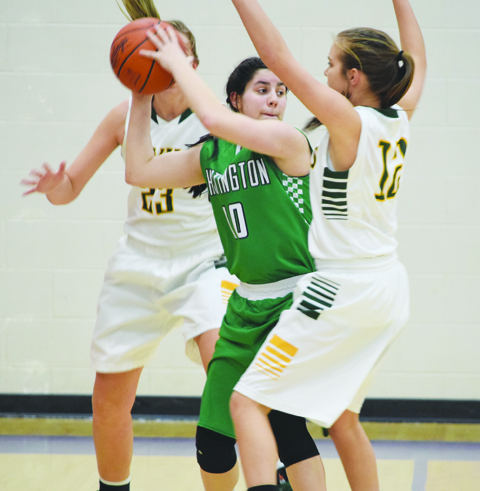 Huntington
9  10  14  6  –39
North Adams
21  24  19  6  –70
Huntington (39): Conley 2 0-0 4, Davis 1 0-0 2, Black 3 0-0 8, Magill 3 2-2 9, Collins 8 0-2 16, Team 17 2-5 39.
North Adams (70): Hesler 1 0-0 2, Toole 1 0-0 2, Hupp 10 4-6 24, Stout 1 0-0 3, Shipley 3 0-0 7, C. Young 1 0-0 2, McDowell 4 0-0 9, Jenkins 1 2-3 4, Harper 8 1-2 17, Team 30 7-11 70.
Three-Point Goals:
Huntington (3): Black 2, Magill 1
N. Adams (3): Stout 1, Shipley 1, McDowell 1