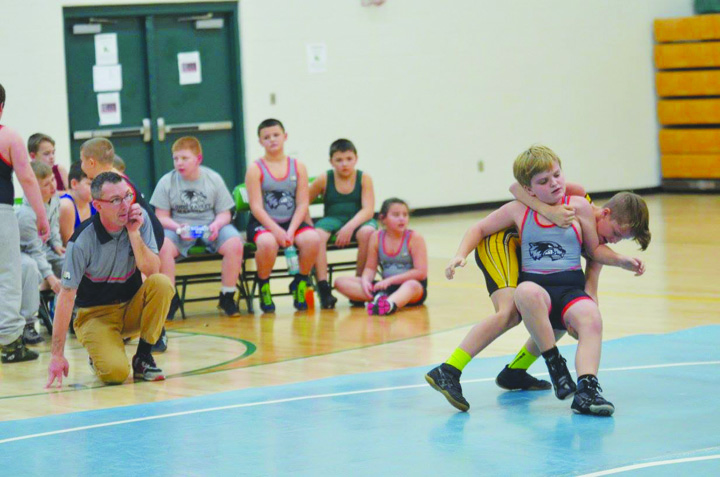 Program begins with Ohio Valley Wrestling Club –
Story by Mark Carpenter –
Photos by Jamie Puckett –
It was a different kind of sport that an estimated crowd of 120 people came to see on Jan. 31 at West Union High School, at least different in Adams County.  For the first time in county history, the gym floor at WUHS was covered with a wrestling mat and young wrestlers from Adams County and the Western Brown School District squared off.
The Tuesday night meet was the home debut for the Ohio Valley Wrestling Club, a three-year old group formed by West Union High School Art teacher Michael Felts, who currently is instructing students in grades one through seven in the sport of wrestling.  The club currently has over 20 members and is open to any student in the county, not just those of West Union.
Felts himself is well-qualified to begin the building of this new program, with an extensive wrestling background of his own.
"I have been wrestling since I was 10 years old," said Felts.  "I wrestled Pee-Wee, junior high, and high school at New Richmond and then had a small college stint at Mount St. Joseph as a collegiate wrestler until I blew my shoulder out.  I then jumped into coaching around 1998 with Cincinnati Turpin for seven years, went to Glen Este for about nine years or so, took a couple of years off, and then decided to start this program out here."
Three years ago, Felts put the idea of a wrestling club out there to see how many kids might be interested in the sport.  There was a pretty decent interest and Felts contacted ACOVSD Board member Charlie Bess to get her thoughts.
"Mrs. Bess kind of wanted me to start ASAP and so I began with grades one through five on Tuesday nights, with 22 kids signed up the first year.  Last year I retained 16 of those first 22 and we practiced on Mondays and Wednesdays and added fifth and sixth graders, who have evolved into seventh graders this year.  Next year we will have grades one through six again with a full seventh and eighth grade junior high.  My hope is that by the 2018-19 school year, the sport will be school affiliated at the high school level."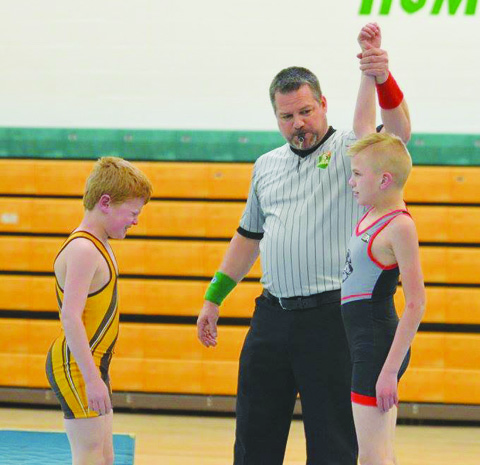 "It was great to see the boys and girls at the first county wrestling match," said Board member Bess.  "The program continues to grow and offers another option for students who want to be part of a team and develop their own skills to compete individually as well.  It is great to see another program that serves our students.  It helps develop self-confidence and commitment and we have some amazing student-athletes.  Mr. Felts is doing a great job with this program."
"Our first match ever was at Western Brown and we won one of 19 matches," says Felts when asked about the progress his program is making.  "Two years later we host Western Brown and we win seven of 16 matches, so I think our progress is very, very good."
"Youth wrestling takes place on Sundays and we have been placing a lot of our kids each Sunday, traveling to places like Western Brown, Milford, and New Richmond, established high schools with established Pee-Wee wrestling programs and tournaments."
The amazing thing about this program is that Felts, as a volunteer, is handling all these coaching duties himself, running his junior high program five days a week with Saturday tournaments.  Then he jumps to Monday and Wednesday and all day Sunday with the youth program.
"When this gets to become a high school sport, I will need another coach to step up and take the junior high program over," says Felts.
Felts came from a tough background which wrestling helped him escape and he sees the same thing happening with many of the kids in his program.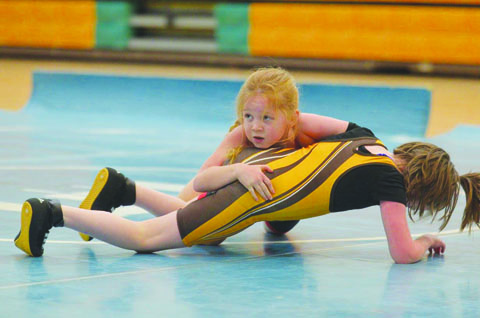 "These kids deal with being adopted, being from single-parent homes, or whatever their hardship is and they can come in here and they can control their aggression," adds Felts.  "The sport is really catching on with girls too and currently we have one girl at the middle school level and two at the youth level."
The 2016-17 roster for the Ohio Valley Wrestling Club includes: First Graders- Michael Calvin, Jase Morgan, and Lylah Adams; Second Graders- Branson Pritchett, Bryson Francis, Kelden Copas, Colton Adams, Colton Abner, and Peyton Abner; Third Graders- Brylee Mills, Derrian Smith, and Colten Richards; Fourth Graders- Ryken Copas, Lane Marshall, and Owen Davis; Fifth Graders- Shauna Thatcher, Ethan Cantrell, Ethan Liston, and Aden Wilson; Seventh Graders- Thomas Arthon, Shaman Light, Celina Nickell, and Corey Rigdon.
You can follow the progress of the club on their Ohio Valley Wrestling Club Facebook page.