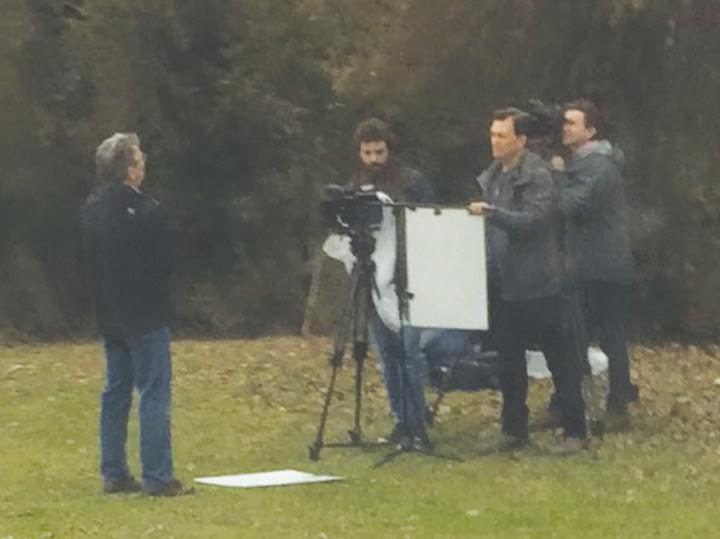 Film will focus on ties that bind communities across America –
By Patricia Beech –
Trent Jones is a man of two worlds. The one which he knew in his youth in Adams County, and the other – three thousand miles away in Los Angeles where he has spent his entire adult life.
Following the divisive election of 2016 he felt compelled to return to Adams County to search for the ties he believes bind us as Americans – it was a trip that would lead him to rediscover his own roots.
Jones grew up in Peebles and like many other young people from the town of 1,200 he spent his youth bicycling around town, playing basketball for Peebles High School, and participating in the local Methodist Youth Fellowship group. After graduating high school, he attended Ohio University and while there developed an interest in making historical documentaries which eventually led him to to California. He applied and was accepted into the graduate program at the University of Southern California's Film School.
"I didn't have the money to pay for school, I was just winging it," he says. "Then a week before school started I got an unpaid internship at Warner Brothers Television and three months later they offered me a job." After graduating Jones was promoted to Vice President of Warner Brothers prime time series where for the next 20 years he oversaw the creation of several popular series including Friends, ER, The West Wing, The Drew Carey Show, The Gilmore Girls and many others.
Throughout the 2016 election cycle he was surprised by social media posts from his hometown.
"A lot of my friends from Peebles were on Facebook and I was seeing some pretty heated back and forth, and some pretty serious name calling."
A subsequent conversation with a close friend from Los Anglese convinced him he should return to Adams County to further explore the divisive effect the election was having in his home town and across America.
"My friend was surprised to learn that I came from a small town of 1,200 incorporating one square mile, give or take, with three traffic lights, and no chain stores or restaurants," said Jones.
"After telling him a little about where I grew up, he said 'you should tell that story', so he planted the seed, and I decided to explore the possibility of making a documentary about what was happening across America from the viewpoint of my home town."
Two weeks later a similar conversation with another friend convinced him it was a story that had to be told.
"My feeling was that I'm not doing this for the good of the world, I'm doing this because I think people's stories are important. Everyone has a story, especially in times of conflict it's important to hear stories from both sides"
Returning home Jones was surprised to learn that most of the people he interviewed for the upcoming documentary believed they had little in common with him and the world he now calls home.
"Everyone in Adams County talks about the church community here, and how if someone is in need the church comes to their aid – the same thing is true in my town – the parish that we're in, if someone's sick we have meal plans and we deliver food to them – it's just not that different," he says. "Granted it's a bigger place, but our community is not the whole span of Los Angeles, it's built around our church and our school – same as here – we have a school community. Parents become friends when their kids are in kindergarten and remain friends in the coming years."
Jones says he was surprised by the range of opinions expressed by the people he interviewed.
"I really didn't expect to find the view points that I have – from one extreme to the other and in the middle," he said, "But, what I have found consistently is an understanding that we may really disagree, but we have to be respectful. We have to live in this place together."
He says the interview he did with his high school English teacher, Linda McFarland, illuminated his understanding of how the community handles its differences.
" Linda said one of the complex things about living here is that these people with whom you disagree so strongly will be the first at your door when you're in trouble."
Jones said he realized that McFarland's view was a model for how we should handle disagreements that arise from differing points of view. "We don't have to agree, we can disagree strongly, we can hate an opinion, but we have to figure out how to be respectful of each other if we still want this country to work, we'd better figure out how to make it work between us."
Jones says his trip home and his conversations with old friends and neighbors has been illuminating.
"So far everything we're getting here is not only informing me of things I had forgotten, but I also think when I find a venue to tell the story it is going to inform the people who actually encouraged me to do it in the first place. We actually do want to know and understand how others think and feel."
Look for more on Jones's work in the upcoming weekend edition of The People's Defender.