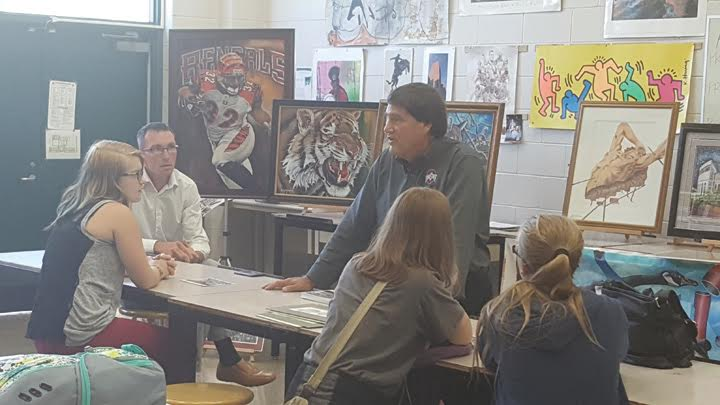 Sports, wildlife paintings are specialties for Gary Blevins –
Story and photo by Mark Carpenter –
West Union High School hosted a special visitor on Sept. 21 as artist Gary Blevins was a guest for the day in the Art classes of Mr. Michael Felts.  Blevins, who is the brother-in-law of Adams County Ohio Valley Superintendent Richard Seas, entertained students and staff all day with his paintings on display and his stories of how he became an artist and all of his inspirations for his work.
Blevins live in Xenia and also has a shop in Destin, Fla. and does most of his work in oils, acrylics, and watercolor.  He attended the Dayton Art Institute and Ohio State University, and a large number of his works deal with Buckeye athletics.  His work has been shown throughout the state of Ohio and several of his paintings have been licensed by OSU and are sold around the school's campus.
"My Dad always wanted to be an artist and he was pretty fair at it and I watched him attempt some paintings," said Blevins.  "I really started to get interested in high school when I had a teacher that really encouraged me and thought that I had a little ability.  After high school, it was the tail end of the Vietnam War and my parents didn't want to see that happen, so they suggested going to the Dayton Art Institute which I did for two years, then on to Ohio State for two years and when I got out of there, I started an art supply store that only lasted a little over a year.  I was married and started having children  so I had to get a real job so I became a wedding and portrait photographer.  That is where I got my creative release for 35 years."
"Around 2002, when photography started going digital, that is when I decided that I needed to do something else, and I went to the art world and I ran into a couple of guys from a company called Fan Ban, who produced large photographic banner of players and stadiums.  They wanted somebody who could do high end art of individual players and I told them I could do that.  One of the guys was former Bengal David Pollack and he was very instrumental in helping me out.  He actually called Peyton Manning and through David's help, Manning approved one of my pieces that I did of him and I had the only licensed print of Peyton in a Tennessee uniform.  We did some signings of my prints and it all kind of snowballed from there and now I do a lot of work for Ohio State."
A painting that Blevins did in 2002 of Ohio Stadium has been one of his most successful works, selling over 1,000 prints.
"It's been great," Blevins continued.  "Through Athletes in Action and the College Football Hall of Fame Scholarship Program I have been able to work with Eddie George, John Hicks, and numerous Ohio State players and coaches."
A large number of Blevins' painting have sports themes, running  the gamut from college to the pros. I love sports and I played football in high school," said Blevins.  "I played rugby at Ohio State, because that was as close as I could get to football.  I was there from 1972-76, the years of Woody Hayes and Archie Griffin, and that excitement for sports has just never left me."
When you have done hundreds of paintings, it can be difficult to pick out a favorite but Blevins does have a particular favorite from the sports world.
"You won't believe this, but it was former Bengal Cedric Benson," says Blevins.  "The painting is my favorite and I talked to him in the locker room and at his house and really got to know him and he was a super person.  I gave him a beautiful framed print of the original painting.  He just texted me recently and thanked me again for the print."
Most of Blevins' non-sport painting deal with wildlife and at WUHS, he displayed a number of those, including a very enchanting print of a bear peering through a tree.  His favorite wildlife print  involves a tiger.
"It is called Water Boy and is a painting of a large tiger jumping out of a pond with water splashing and I had no idea how to paint water or the fur but I worked and worked on it and it came out as a believable picture and it happens to be my favorite."
Anyone who wants to see more of Blevins' work, can find him on Facebook or at www.GaryBlevinsart.com.