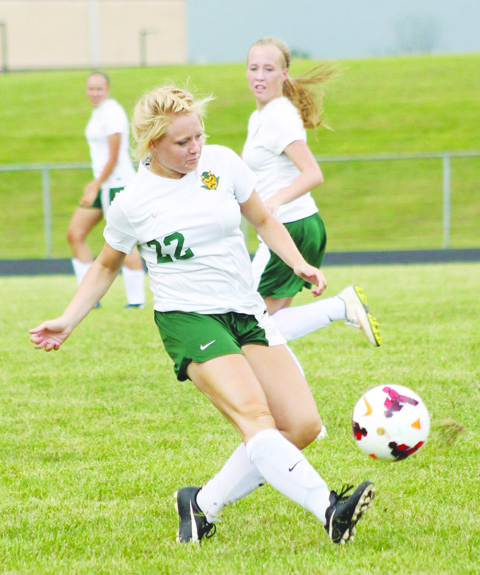 NA girls soccer opens with 0-0 tie with Minford –
Story by Mark Carpenter –
Photo by Patrice Yezzi England –
There was thunder all around the soccer field in North Adams on Saturday afternoon, although it was not the type of thunder that Coach Dave D'Avignon and his Lady Devils girls soccer squad were looking for.  North Adams hosted the Minford Lady Falcons in the season opener for both teams and a game played under overcast skies the entire way was also interrupted by thunder, which per Ohio High School Athletic Association rules, means delays, which on Saturday meant an hour of down time mid-game for both sides.
The combination must have been a lethal one for the two teams' offenses as neither could find the back of the net in 80 minutes and the opener ended in the scourge of all soccer fans, the dreaded 0-0 tie.
For the majority of the game, the action took place on the North Adams side of the field, but the usually potent Lady Devils' offense could not convert opportunities, although they outshot their guests 17-6.  According to the North Adams head coach, his team was missing two senior starters who will definitely make a difference on offense when they are back in the lineup.
North Adams junior goalkeeper Madee Shipley picked right up where she left off last year when she recorded eight shutouts, as she only had to handle three saves on Saturday to record her initial 'Clean sheet" of 2016.
"Both teams played well," said Coach D'Avignon.  "We had several chances, but the ball just wasn't bouncing our way today.  We have been working on a new defensive system which, like in the international game, does not employ the traditional stopper and sweeper.  Our starting fullbacks, Taylor Hesler and Morgan Waits along with Alaina Eiterman and Mary Sonner, plus Laney Hesler and Jordan Yoder coming off the bench , give us a formidable crew in the back.  Add in an All-SHAC goalie and we should always be in games.  The goals will come."
The Lady Devils will be in action again on Wednesday, Aug. 24 in their Southern Hills Athletic Conference opener and it will be an early test for Coach D'Avignon's groups as they host the Eastern Lady Warriors, a team which they tied for second place in the SHAC in 2015.  Game time is set for 6 p.m.