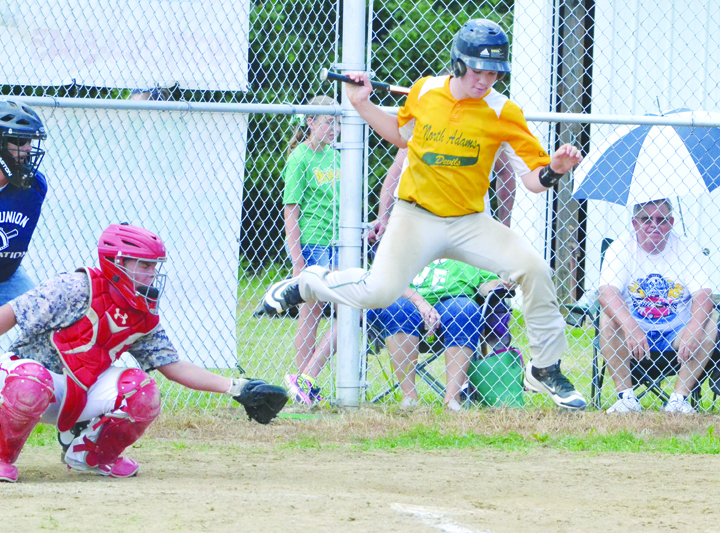 Extreme temperatures don't melt the fun on the diamond –
Story and photos by Mark Carpenter –
Extremely hot and humid temperatures did nothing to dim the enthusiasm on Saturday afternoon at the West Union Recreation Park as the park hosted the now annual Southern Hills Youth Baseball All-Star Games and Home Run Derbies.
Spectators who braved the heat on Saturday at the Rec Park were treated to baseball action on every diamond, ranging from the "D" League all the way up to the "A" league.  In the "D", "C", and "B" leagues, there was an All-Star  Game followed by the Home Run Derby, or vice versa, with the "A" league just having a Home Run Derby, won by a young man from Fayetteville, who hit four over the fence before recording his 10 outs.
To add a little pizzazz to the surroundings, Brad Rolfe from C103 Radio was on hand to provide music and to emcee the Home Run Derby for each division, a nice twist that added more to the memorable day already experienced by all the young All-Stars.
Each Home Run Derby was a special experience for the participants, as they got the opportunity to swing for the fences just like the pros did two weeks ago.  Add in the Brad Rolfe commentary and it made a unique chance to hit some "dingers."
The Southern Hills Youth Baseball League is made up of teams from Adams, Brown, and Highland counties, all of who were represented on All-Star Saturday.  Those young men chosen for the All-Star Games came from West Union, Peebles, North Adams, Manchester, Ripley, Eastern, Fayetteville, and Whiteoak.
The games on Saturday also provided the youngsters with the opportunity to play with different teammates, play against some of their own teammates, and lay position sin the field that they may not have had the chance to do during the regular season and tournaments.  The games are also a challenge for the coaches, who try to equally divide playing time, while trying to keep track of who's in and who's out, but no matter what, the old adage held true, "a good time was had by all."
Each player was also presented with an All-Star medal as a memento of the day's events.
The SHYL Softball All-Star Games and Home Run Derbies were held on Sunday, July 24.  Look for a report with photos on that action in the upcoming July31 weekend edition of The People's Defender.