Fourth annual day camp brings in record numbers –
Story and photos by Patricia Beech –
Photos by Kimberly Browning
Cutline 3:  One of many visitors to the Junior Deputy Boot Camp in Peebles was this big "bear", who always brings a message about how the children can prevent fires.
A record number of young people turned out for the second session of the 2016 Junior Deputy Boot Camp in Peebles last week. The event was sponsored by the Adams County Sheriff's Department and hosted by the Church of Christ in Christian Union.
Now in its fourth year, the drug awareness day camp focuses on teaching children ages 5-14 about the danger of drug abuse, through a combination of physical challenges and special guests from the Sheriff's department.
According to Sheriff Rogers, the camps are held during the summer months because when children are most inclined to begin experimenting with drugs. "It's important to give the kids something positive to do during the summer months because it is the most vulnerable time for kids," Rogers said. "They're out of school, which is a controlled environment, so they need something to keep them busy."  The camps offer a several activities in four different venues which are designed to inform, educate, and entertain.
"We try to teach them just how dangerous this stuff is at an early age." he says. "We've spent hundreds of thousands of dollars on adults who are addicted to drugs, and think we've proven that waiting until someone is already addicted is not the best way to solve the drug problem."
Children participate in team-building games, archery, horseback riding, air rifle shooting, and a variety of other activities. The program concludes with a graduation day ceremony and cookout.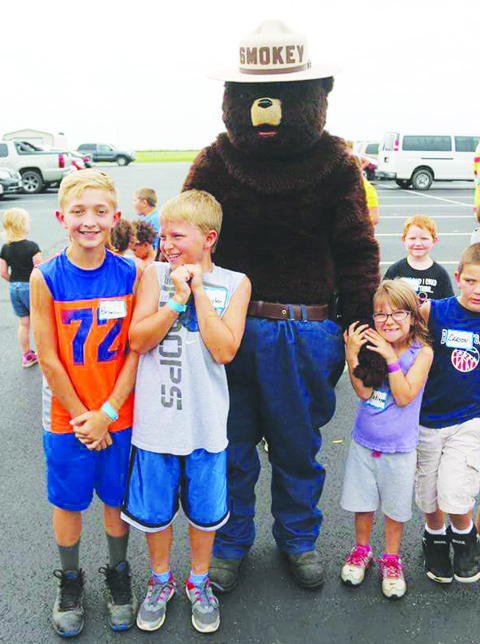 This year's camp also kicked off a new mentoring program, the Jr.  Deputy Launch Pad, a career exploring, personal development program  for teens 15-18 years old.
Local business and community leaders acting as mentors for the program  included: Chad McCoy and Angie McCoy of McCoy Lumber; Dr. Levi Tolle,  DC;  Adams County Health Commissioner Dr. William Hablitzel MD;  Attorney Tyler Cantrell, Father Jason Bedel, Jim and Tammy Unger of  Unger Construction Company; Commissioner  Paul Worley; Paula Chamblin  of Chamblin Furniture; Karen Jones (Girl Scouts), Ellie Kelley, and  Tessa Swayne.
Rogers said he believes the program will help young people make better  choices throughout their lives.
As is custom, the final day of the camp saw visits from the Lone Ranger, Tonto, and special guest Zorro as the campers were also awarded certificates for their completion of the camp.