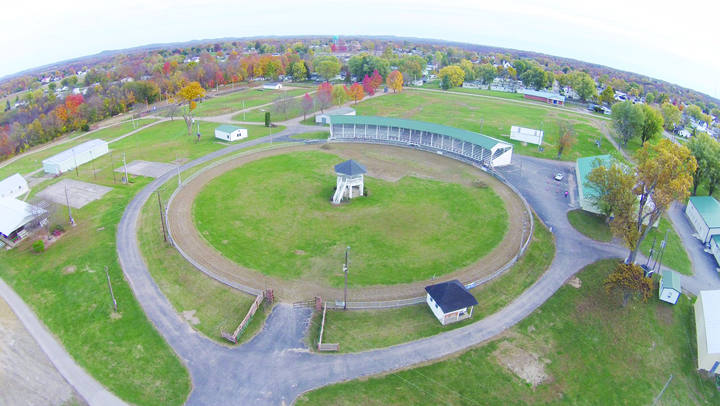 Money will provide further improvements at the county fairgrounds –
By Patricia Beech –
The Adams County Fairgrounds have been getting a much-needed upgrade over the past two years, but there is still work to be done. Now, thanks to a matching grant, preparations to begin several renovations and improvements will be soon be set in motion.
The Ohio Department of Agriculture has awarded the Adams County Agricultural Society a $50,000 matching grant. The matching grant will provide $100,000 for projects at the fairground.
"This grant gives us the resources we need to complete six very important upgrades at the fairgrounds," said Liz Lafferty, President of the county Fair Board.
The slated projects include the restoration of the goat barn, an electric switch arm upgrade for the concession and campground, two new center ring poles with extended arms and LED lights, a three-rail vinyl break-away fence around the center ring with three gates, a complete renovation of the public restrooms behind the grandstand, and a new zero-turn lawn mower.
In a joint statement County Commissioners Brian Baldridge, Paul Worley, and Stephen Caraway said, "The money coming to the Adams County Agricultural Society from the state of Ohio is a testament to all of the hard work and dedication by the Fair Board and the many volunteers who have worked tirelessly to improve the fairgrounds. We were happy to be an advocate for these funds and cannot wait to see the finished product. After all, these grounds belong to the people of Adams County. "
The fairgrounds have been the recipient of a swell of community support in recent years. Schools, business, organizations, and individuals have volunteered their time to repair and paint the buildings and clean the grounds.
"The condition of the fairgrounds is a reflection on the rest of the county," said Jack McCoy, who this year donated materials for the grandstand renovation. "It is important to be supportive of projects like this."
"Funds to meet the matching grant will be raised in part by the annual Grandstand Bonanza Dinner," said West Union businessman, Tony Staggs. "The purpose of the dinner is both the renovation of the grandstand and the beautification of the fairgrounds."
Staggs spearheaded the grandstand renovation project which was completed this year.
According to Lafferty, the Adams County Agricultural Society will be accepting sealed bids until 5:30 p.m. on Aug. 4, 2016. The bids for all six projects will be opened during the regular Aug. 4 board meeting.
Bids can be mailed back to the Adams County Agricultural Society, PO Box 548 West Union, Ohio 45693 or dropped off on August 4 between 3:30 and 5:30 p.m. at the Adams County Fairgrounds on Boyd Avenue in West Union.
Bid packets including all six projects will be e-mailed upon request. Individuals should bid only on the specific projects they hope to be awarded. All projects must be completed by Dec. 31, 2016.
Requests and questions can be made to lizlaffertyventure5@yahoo.com.