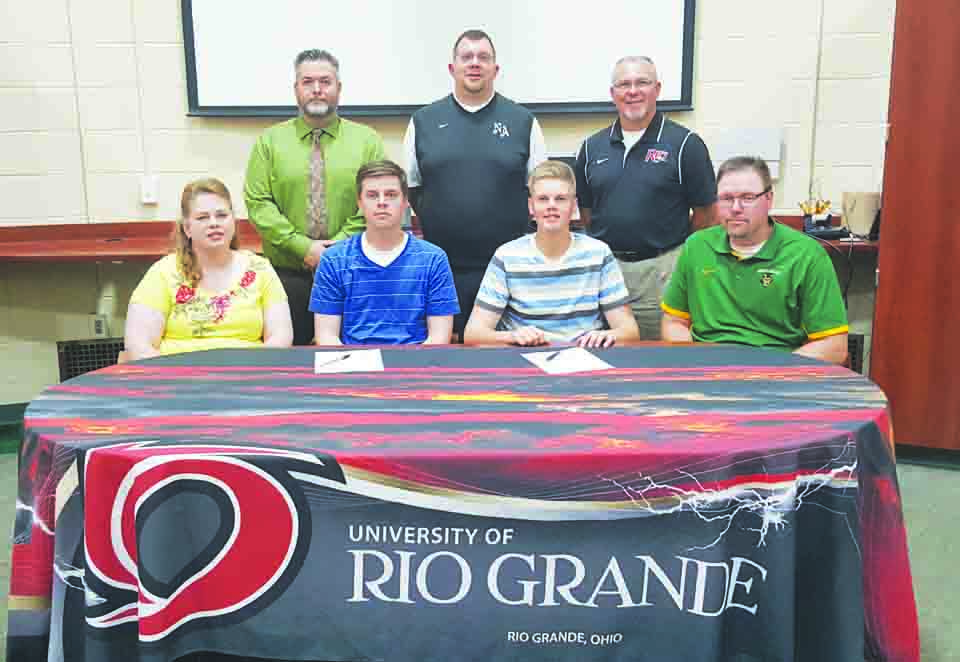 By Mark Carpenter
It was nothing less than a "family affair" last Thursday morning at North Adams High School as two of the school's finest male student athletes made their choices about what their athletic and academic careers will hold. Since they have been together and inseparable since the day of their birth, it seemed only appropriate that they should be sitting at a table together in the school's round room, announcing that they were going to be inseparable again for the next four years.
Twin brothers Cole and Trey Meade, who have established quite a sports legacy at the Seaman school following in the footsteps of their father Rob, made the decision and last week signed their letters of intent to become teammates once again, this time at the college level, and this time as members of the University of Rio Grande baseball program.
The Meade boys have been multi-sport stars at North Adams and their "package" deal will keep them in the dugout together as members of the Redstorm baseball squad under the guidance of Coach Brad Warnimont. Though they had other offers from other schools for other sports, the bond between the two was not quite ready to be broken.
"Back in the fall we went to a baseball showcase at Shawnee and got some video sent out and Coach Warnimont said he wanted to meet with us so we made a visit down there," said Trey. "He came and watched me pitch this spring and said that he liked what he saw. I liked what they were doing down there, it seemed similar to what we do here at North Adams and I like the coach and I look forward to continuing what I've been working on."
Brother Cole echoed a lot of the same sentiments, but also hinted that perhaps his brother had something to do with his eventual decision.
"I went to the showcase with Trey and they showed some interest in him and wanted me to come with him and they thought we both had some promise, Trey with his pitching and me with my hitting and my size," said Cole. "We were real impressed with everything down there and with it being our Dad's alma mater, that helped. I definitely got the feeling that if you put the work in you will get something from it."
For the twins' father Rob Meade, who has also been their baseball coach for most of their lives, the signing ceremony was obviously an emotional experience.
"I'm extremely proud to have Trey and Cole have an opportunity to play at the next level and to be able to attend my alma mater makes it even more special," said Rob. "We were very impressed with the Rio baseball program and the campus."
"It has been a lot of fun watching them grow as players since I started coaching them at four years old," he continued. "We have made a lot of memories on the field and have had a lot of good times. I am going to enjoy watching them progress. Cole has been a vocal leader for us for a long time and will be hard to replace in that aspect. He took charge of defensive positioning. Trey has developed into a force on the mound and continues to develop. It will be a little strange not being able to run him out there for the green and gold."
The Meades are headed into what is at the moment a pretty successful Redstorm baseball program, as the 2016 Rio Grande squad stands at 37-23 on the season and just recently captured the Kentucky Intercollegiate Athletic Conference Tournament, earning them a trip to the 2016 NAIA Baseball National Championships, where there were in action this week.
Coach Warnimont is ready for the two North Adams standouts to become part of his program.
"My interest in the Meades began when I saw them workout at an indoor facility in Minford," said Warnimont. "Tim Martin was doing some private lessons with the boys and I noticed their potential. As I tell most recruits, once they get adjusted to the speed of the college game we can see where they fit into the program."
"However, you can't teach 6'5" and 6'6" so from a pitching perspective, Trey already has an advantage with his downhill angle. As he develops physically, I think he will see a big jump in velocity."
In his senior campaign as a Green Devil, Cole batted .250 with a .333 on-base percentage, while driving in 12 runs. On the mound this spring, Trey was 5-3 with a 2.25 earned run average, striking out 65 batters in 46.2 innings of work.
Again following in the footsteps of their father, a long-time coach and educator at North Adams, both boys plan to study Education at Rio, Trey in Secondary Education with a Mathematics emphasis, and Cole also in Secondary Education with a major in History and a minor in Intervention.