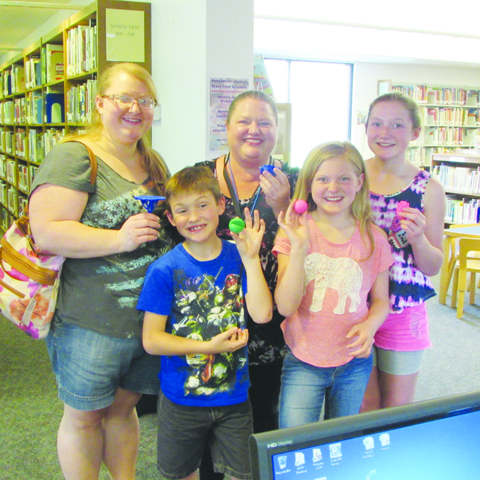 By Jessica Dooley
The Peebles Magazine Club will hold a Book Sale at the Peebles Library on Friday and Saturday, May 6 and 7. Stop by the Peebles Library from 10 a.m. until 5 p.m. to browse hundreds of books, including books removed from the library's collection and donated books. Come explore hundreds of newly available titles, including hardback fiction, nonfiction, craft books, cookbooks, history, hardback children's nonfiction, and VHS movies. For more information, call 937-587-2085.
Free, individual assistance is available to students of any age who are preparing to apply for college. If you'd like help filing the FAFSA, finding college scholarships and loans, financial planning counseling, or help with the college application process, ask about an appointment with academic advisor Ed Huck. Ed provides free help with filing FAFSAs and other college financial aid preparation through a federal TRIO grant. Appointments are available at any Adams County Public Library, and also at the Mt Orab campus of Southern State Community College. For more information, call 937-587-2085.
---
By Jessica Dooley
Southeastern Ohio Legal Services is the free legal aid agency for Adams County. Each month, SEOLS holds a "Do It Yourself" Legal Clinic at the Department of Jobs and Family Services in West Union, on the third Thursday morning at 10 a.m. Learn how to address common legal problems, including custody filings, visitation rights, and small claims. For more information, call 740-354-7563.
The Adams County Public Library offers access to Gale Legal Forms, an online reference database that offers hundreds of blank legal forms you can customize to your needs. Gale Legal Forms has templates for common legal documents including power of attorney, rental agreements, legal separation, wills, and much more. Many forms are customized to Ohio-specific requirements. Visit adamscolibrary.org and click on Legal Forms, and log in with your library card to download, customize, and print the forms you need.
On May 5, the North Adams Library is hosting a Cinco de Mayo Face Painting Festival for kids and teens. Join Ms. Julia at 3 p.m. for face painting tutorials, games, and refreshments. Learn more about Mexican culture and traditional Cinco de Mayo celebrations. Pick up a Cinco de Mayo coloring page, visit with friends, practice dance steps and listen to Latin music. Everyone is welcome. For more information, call Julia at 937-386-2556.
On Thursday, April 28, the adult Book Clubs will meet at the North Adams and West Union libraries. Join Julia at the North Adams Library at 5:30 p.m. to enjoy a relaxed discussion of "Against the Tide" by Elizabeth Camden, share refreshments, a quiz, and prizes. Pick up a copy of next month's Book Club title at the desk, and join us on May 26 to discuss "The Invention of Wings" by Sue Monk Kidd.
On April 28 at 6 p.m., join Amy at the West Union Library to discuss "Dr. Mütter's Marvels: A True Tale of Intrigue and Innovation at the Dawn of Modern Medicine" by Cristin O'Keefe Aptowicz. Help us select our May Book Club title. If you are interested in joining the West Union Library Book Club, but aren't free on April 28, call Amy at 937-544-2591 for more information. See a list of all the Book Clubs' 2016 reading lists and meeting times on our website, at adamscolibrary.org/book-club.
Find out about the library's upcoming events, including our 3D Printer Showcase, weekly Story Time for preschoolers, After School Activity Club for teens, Teen Art Class, and more, by visiting us online at adamscolibrary.org.